here
It isn't the old MFU, but it does look fun.
They can be found


If you could shut down any charity, which one would it be?

If you could witness one event in your family history, what would you want to see?
If you had to select one thing in life that you feel the most guilty about, what would it be?
I'm assuming he's going to be there to promote the new MFU movie, so it should be interesting.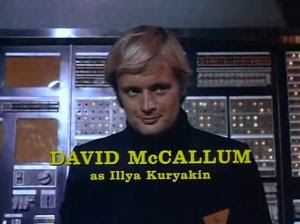 David McCallum's main titles credit in the final season
One change in The Man From U.N.C.L.E. movie compared to the original series: The film makes explicit that Illya Kuryakin is a loyal Soviet while the show tiptoed around the issue.
The 1964-68 series was the utopian spy show of the era. An American and a Soviet could work together to combat larger threats. But the show only went so far.
(
Read more...
Collapse
)
I'm not actually a Geordie. They come from Newcastle, whereas I am from Durham, about 20 miles south of there. However, we share quite a lot of the same dialect. I've chosen some of my favourite words and phrases from the helpful web page and posted them below. What do you think?
(
Read more...
Collapse
)
My nephew's girlfriend comes from the other end of the country so, naturally, has an entirely different dialect to ours. She was bemoaning the fact she has difficulty understanding the slang and colloquialisms we use in everyday speech. To help, I showed her a web page which has a handy Geordie dictionary on it. I think it probably just confused her further.


Would you rather babysit a crying infant for a day or have an unwanted houseguest for a week?

Would you rather own your own boat or your own plane?
Would you rather be known as a one-hit wonder for a novel or a song?
MY VIOLIN AND THE MAN FROM U.N.C.L.E
July 27, 2015 by norman lebrecht
---
Jeremy Constant, concertmaster at Marin Symphony and assistant concertmaster at San Francisco Symphony, has

discovered his 1850 Vuillaume has history – movie history, London legends, happy days of father-son bonding. Read

Jeremy's story exclusively on Slipped Disc.
(
Read more...
Collapse
)


Who communicates more efficiently: men or women?

Some people like to talk about things, and some people like to do things. What kind of person are you?
What makes it easy to talk to someone?
U.N.C.L.E. movie poster
Ahead of the Aug. 14 release of The Man From U.N.C.L.E. movie, we present the best posts this blog has made regarding the film.
It's no secret The Spy Command has followed the development and filming of this project closely. What follows are links to the best posts the blog had to offer.
Pros and cons of an U.N.C.L.E. movie (June 9, 2013).
Elements that should be part of an U.N.C.L.E. movie (June 30, 2013): What made The Man From U.N.C.L.E. television series different from other spy entertainment and why those elements should be retained in a film version.
How the U.N.C.L.E.. movie will differ from the original show (Sept. 4, 2013): Taller lead actors, a younger Waverly and an "origin" story line.
The U.N.C.L.E. movie's 'Easter eggs' (Sept. 27, 2013): Some passing references (maybe?) to the original show.
Some fan complaints about the U.N.C.L.E. movie (Oct. 6, 2013): Lead actors are too tall, Henry Cavill too muscular, Armie Hammer doesn't have a David McCallum haircut.
The rise of the 'origin' storyline (April 11, 2015): It's not just the U.N.C.L.E. movie that favors an "origin" storyline.
Will the U.N.C.L.E. movie have dash? (May 29, 2015) "Dash" was the word Norman Felton, executive producer of the original show, used to describe U.N.C.L.E. Will the move have dash?
Will Solo's moral streak make it into the U.N.C.L.E. movie? (June 25, 2015)
The U.N.C.L.E. movie's gamble (July 2, 2015): How the U.N.C.L.E. movie is paring itself to the basic DNA of Solo, Kuryakin and Waverly while dispensing with familiar memes of the original show.
In addition, on our sister site, The Man From U.N.C.L.E. episode guide, there's a timelinefor how the movie developed.


https://hmssweblog.wordpress.com/2015/07/26/the-spy-commands-guide-to-the-u-n-c-l-e-movie/



What do you think the new age of retirement for an agent would be in this day and age?

Without look, what color is your toothbrush?
Do you think deprogramming agents does more harm or good?