What are your thoughts on AU (Alternative/Alternate Universes)?
| | |
| --- | --- |
| New post on The Spy Command | |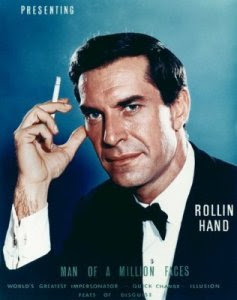 Martin Landau as Rollin Hand in an IMF dossier photo
Martin Landau, who gained fame as Mission: Impossible disguise expert Rollin Hand, has died at 89, the TMZ website said.
Landau died Saturday at the UCLA Medical Center "after a short hospitalization where he suffered unexpected complications," TMZ said.
Landau enjoyed a long career that began in the early 1950s. It included a number of espionage-related stories, including portraying Leonard, a henchman in the Alfred Hitchcock-directed North by Northwest (1959); a Cold War themed episode of The Twilight Zone; and playing Thrush operative Count Zark in The Bat Cave Affair, a second-season episode of The Man From U.N.C.L.E.
But he was most famous for Mission: Impossible, where he appeared during the show's first three seasons.
M:I producer Bruce Geller wrote the part of Rollin Hand (originally named Martin Land) in his pilot script especially for Landau. Landau didn't want to sign a series deal. Geller wanted the actor for the pilot badly enough he proceeded anyway.
It would be a decision that would have a major impact on the series.
Initially, the idea was Rollin would only appear occasionally. However, series star Steven Hill, for religious reasons, insisted on leaving work at sundown on Friday.
Count Zark (Martin Landau) menaces Illya Kuryakin (David McCallum) in The Bat Cave Affair
(
Read more...
Collapse
)
glennagirl
at
It's Sunday, Time For A Poll
Since everyone is obviously just lazing about with nothing better to do...ahem...
What is your true fantasy concerning our gorgeous guys from the grey halls of UNCLE HQ?
Let's see how you'd spend your time, if you could get some. With them, that is.
Originally posted by


You are very, VERY welcome!
You have entered The Canteen, a place where you can be who you are, say with respect what you want, and find that no matter what, you're not alone.
the wonderful new banner
to come up, how about a sightseeing trip around the neighborhood to pass the time?
Just upstreet, there's this nice mini golf park. Illya can navigate this in his sleep.
(
more sights under the cut
Collapse
)
Perhaps you have been on a photo safari to mfu_canteen land too? Please share!
Have a good day romping around, cousins: see you here in the Canteen!
While we're waiting for
Current Location:

mfu_canteen land

Current Mood:

sleepy

Current Music:

Elis Regina, Antônio Carlos Jobim - Águas de Março
And for those of you who like Sherlock Holmes, I've finished my tiny bit naughty story and posted it on A03. Love your brother. It is in answer to two prompts from Holmes Brothers Inc on Live Journal
#8
John and Mycroft get into a roll and Sherlock takes Mycroft's side. Mycroft is surprised and they get to talk.
#7
Someone breaks into Mycroft's house and injures him. Sherlock gets after the criminals and Mycroft realizes that he does mean something to him.
http://archiveofourown.org/works/11360817/chapters/25430088
Let me know what you think.
Thanks for all the great stories I find here.
I enjoy all the communities and like to read things in all of them.
Avery11 made us a lovely new banner for the Canteen. Here's a preview!
About the banner. We had hoped to get it up today, but that isn't happening (yet).
So, our invitation and our challenge to you, drop into your favorite MFU community and say 'Hi!"
The Canteen was created with you in mind. This is a place to just hang out, ask the random MFU question, or perhaps to discuss Doctor Who's latest regeneration, or even wax poetic over Sherlock Holmes. Post a question, photo, a story, a video, there are no off topic questions here, just folks ready to discuss everything and anything.
Our aim has been to create a safe zone where everyone feels free to discuss whatever comes to mind. We are gen, het, and slash friendly and always ready to welcome a new cousin into the fold.
We hope to see you around the Canteen soon! And don't forget these other classic MFU communities that would appreciate your support:
Network Command
- We welcome stories and artwork of all types, in all genres and of all ratings, and we particularly encourage experimental work.
MUNCLE
- We are a slash community, but we chat about anything MFU.
mfuwss
- Writing help for MFU fanfic writers.
mfu_shortstories
- This community posts links to Man From UNCLE short story fiction every day for the members' reading pleasure.
Mfuficfind
- This site is primarily dedicated to helping people look for "Man From UNCLE" stories that they read in the past and want to read again but can't find the link. Or, for people who heard about a good MFU story and want to locate it. You can also ask for help finding movies, videos, episodes, or whatever else you can think of.
Please check out these and all the other fine MFU communities in Life Journal. Links are at the left of this page.
With the 50th anniversary of the end of MFU fast approaching, we thought it might be a good time to reconnect with all our cousins and just have a shake and howdy.